Certified Pre-owned Baby Lock Jazz II with New Cutie Frame
---
Our most popular quilting package is the Baby Lock Jazz 2 with the cutie frame. This allows customers to discover how easy it is to quilt with a machine on a frame, and the Jazz 2 with the Cutie frame is very affordable. Customers can upgrade and receive the full value of the Jazz 2 purchase toward the Grace Q'nique long arm machines within 1 year. This is why, from time to time, we have the Baby Lock Jazz 2 certified pre-owned models available. These machines have been completely serviced and come with a 1-year warranty provided by Moore's as well as a 1-year full upgrade. See below.
We are also packaging these Jazz 2 Certified Pre-owned models with a new Cutie frame by Grace.
1 Year Warranty and Upgrade Option

---
Description
If you're looking for a machine that is Big on Performance and Easy on Price, the new Baby Lock Jazz II gives
you both. With a 12″ workspace and 1,000 stitches per minute, the Baby Lock Jazz offers a big place to create
your quilt compositions. The best part about this machine is that it's easy to afford with features unlike
others in its price range. Plus, Baby Lock is there to accompany you along the way. Now that should be music to
your ears!
---
12″ Workspace
Making a larger quilt or working on a bulky project? No problem. The Jazz II has an expanded throat space that
gives you plenty of room to work comfortably.
Programmable Needle Up/Down Button
You can choose to have your needle start in the up or down position, eliminating interruptions and making it
easier to complete your projects faster. It's the perfect option for chain piecing and appliqué!
Large Reverse Lever
We've increased the size of a standard reverse lever, making it easier to get your hand on it without taking
your focus off your work.
Built-In Needle Threader
With just a few simple motions, your needle is threaded and ready to use. There's no guesswork, no
near-misses and no frustration!
Quick-Set, Top-Loading Bobbin
No more struggling with bobbin changes midway through a project. Simply drop in a new bobbin, pull your
thread through the guide and Jazz does the rest.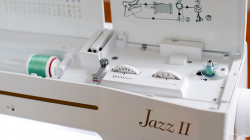 Automatic Bobbin Winder
The built-in bobbin winder seat holds your thread in place and then stops automatically when the bobbin is
full. It couldn't be easier.
Hands-Free Presser Foot
Keep both hands free for sewing large quilts. Start and stop your sewing without ever taking your eyes—or
hands—off your project.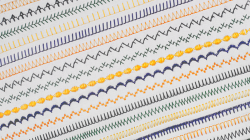 28 Built-In Stitches, 1000 Stitches Per Minute
With 28 built-in stitches, including a one-step buttonhole and a maximum stitch width of 7 mm, Jazz is
well-equipped to take your creativity to new heights. Keep a quick and steady tempo of up to 1,000 stitches
per minute.
Snap-On Presser Feet
Switch from one specialized accessory foot to another in a snap.
Free Arm
With the Jazz II machine's free arm, you can sew enclosed items, curved pieces, and other tight spaces just as
easily as large projects.
Download Baby Lock Jazz II Specs Brochure
Pair the Jazz 2 with a Cutie Tabletop Frame to begin your quilting journey today!
Quilt or sew anywhere with this easy-to-use, affordable fabric frame and your home sewing machine! The
Cutie Tabletop Fabric Frame allows you to quilt, sew, and stitch to your heart's content in a much
easier way, managing your fabric for you so you can enjoy the process more. This frame fits on top of a
table or desk and is compatible with most sewing machines.
The Cutie is a great space saver, designed to be lighweight, portable and to fit on top of a table or
desk, and is easily stored away. The Cutie is priced at a fraction of the cost of other frames on the
market, and is the best adaptable choice for your quilting projects. With the Cutie, you will be able to
create projects of any size with the Grace zone-to-zone method. If you can imagine it, the Cutie can
help you make it happen!
Grace Cutie Frame
Your Machine here
The Cutie is compatible with almost any domestic sewing machine. You can use your own machine or one of ours.

Space Saver
This lightweight and portable frame fits on top of a table or desk and is easily stored away.
Affordable Option
The Cutie is the most adaptable and affordable option for your fabric projects, costing a fraction of the
price of other frames on the market.
Boundless Possibilities
Using our zone-to-zone method, you can create projects of any size. If you can imagine it, the Cutie can make
it a reality!
Welcome To Free Motion
Like drawing with a pencil on paper, your machine glides easily over the fabric in any direction. Yes, quality
artistic stitching has never been so simple.
Designed For Your Comfort
This frame is adjustable to fit any sewing machine with a throat space of up to 19″. For your convenience,
the handles can be extended and rotated.
Fit Your Space
The Cutie Tabletop Fabric Frame easily moves from the table to the counter, the closet, or under the bed as needed.
Watch a Cutie Frame Demo
---
Guide Classes
Additional information
| | |
| --- | --- |
| Weight | 37 lbs |
| Dimensions | 30 × 14 × 18 in |
| Manufacturer | Baby Lock |
| Brand | Baby Lock |
0% Interest for Up to 60 Months
On purchases of $300 or more made with your Sewing & More credit card. Terms of 6 to 60 months available.
Apply for your Sewing & More Credit Card now!