Brother Luminaire Upgrade 3 SAVRXPUGK3
The Brother XP3 Upgrade adds the features of the all-new XP3 to your Luminaire XP1 or XP2. These features include enhanced Stitch Vision, Creative Yarn Couching, Stitch Tapering, support for Large Connect Designs, Edge-to-Edge Quilting, enhanced My Design Center, enhanced Accessory Feet, all new Fine-Tip Stylus, and redesigned Multi-Function Foot Controller.
---
Brother Luminaire Upgrade 3 Bundle
(Click image for larger view)
Brother Upgrade 3 Kit (SAVRXPUGK3)

Brother Multi-Function Foot Control
Brother Fine-Tip Stylus
Brother Enhanced Accessory Foot

Brother 10″x10″ Magnetic Frame
Exclusive Moore's Facebook group Hosted by Terry Maffitt, expert on the XP and the Solaris series machine as well as PE Design and Palette 11 software and Cathy Brown, host of Sewing Tech Talk with Cathy.
---
Description
Upgrade your Luminaire XP1 or XP2 experience with all the features of the brand-new Brother XP3!
Updated Stitch Vision Technology
Achieve more precise placement of stitches and embroidery designs with the enhanced Stitch Vision Technology, an industry-first feature that has been enhanced for greater accuracy and faster speeds. Audition your entire design across the hoop at speed much faster than prior Luminaire models.
New Automatic Tapering Using Target Stickers
The Brother Luminaire XP3 Upgrade Kit ads automatic tapering of stitches where you can select the beginning and ending angle to be used in this tapering process. One unique thing is the use of a targeting sticker for determining the end point of the taper. Place the target where you want the corner to end, and the built-in camera with Innov-eye 2 technology, ends the tapered stitch exactly where want it – you get perfect results every time.
Brother XP3 Upgrade Luminaire adds the largest designs available
The XP3 upgrade kit uses the Luminaires advanced connectivity feature to combine 3-part designs into jumbo embroidery masterpieces up to 28" x 15" in size. No other machine has a larger built-in design. With the upgrade kit, 5 unique jumbo designs plus additional designs, that compliment each jumbo design, have been added.
Besides the large designs, this Brother Luminaire XP3 Upgrade Kit has added over 100 unique designs fonts and features.
Ornate Long Stitch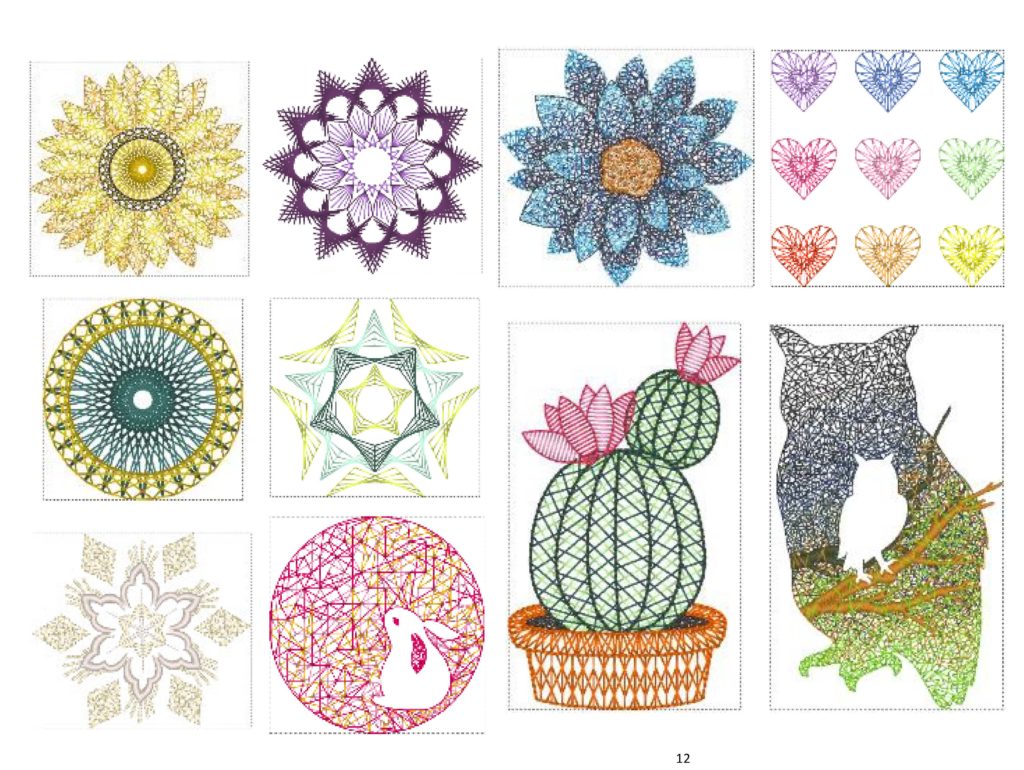 Introducing a new exclusive style of embroidery that defies traditional embroidery parameters. Typically, no more than a 9 mm stitch can be used for embroidery. With other machines anything over that length will not hold into the fabric.
Creative Yarn Couching Font
Achieve a 3D effect by filling in letters and numbers with yarns of your choice. This opens up a world of texture of texture, and all
characters are resizable for more flexibility.
QuiltBroidery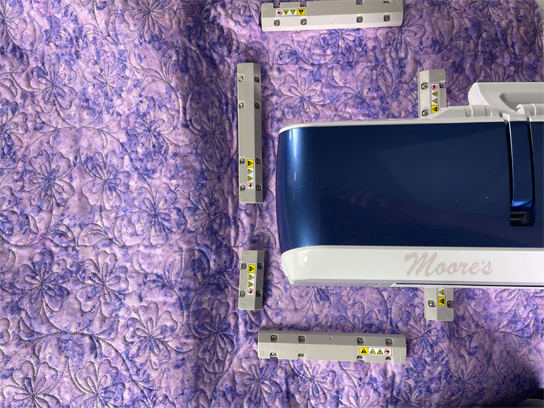 Brother has coined the phrase QuiltBroidery and now it's more advanced than ever. With this new upgrade you can now quilt edge-to-edge, an entire king size quilt (up to 118″ x 118″) using your embroidery frame.
Edge-to-Edge Quilting
The Edge-to-Edge quilt feature lets you quilt your projects right on your Luminaire and works great with the new optional 10″x 10″ hoop magnetic hoop.
Choose from 10 built-in designs, input the size, choose the hoop, even auditioning the arrangement. The 10 included patterns allow for plenty of variety and come with clear, easy-to-follow directions. The machine walks you through each step, using the stitch vision projection system so that each pattern is connected across your entire quilt.
New Brother Hoopnetic Magnetic 10″ x 10″ quilting frame (optional)
The new optional 10″ x 10″ magnetic frame works perfectly with the new edge to edge quilting feature. It is unlike any other magnetic frame. The hoop is designed with a triangular shaped rail that uses several detachable magnets. This allows you to manipulate your project while attaching the magnets.  Positioning is much easier than with magnetic hoops that have just one magnet to hold the entire project in place. Because of the shape of the rail, thicker fabrics hold much firmer than with traditional magnetic frames.
(Ask about our special combo package with this hoop)
My Design Center: Make Your Projects Unique
There are amazing enhancements to My Design Center across the Luminaire line. Six new decorative fill patterns have been added, as well as a ten-key input to size designs more accurately. There is also a numbering system for stamp shapes. Custom decorative fill patterns and line motifs can be imported from the optional PE-Design 11, resulting is greater creativity. Also included is a new fine-tip stylus for better drawing in My Design Center.
Enhanced Accessory Feet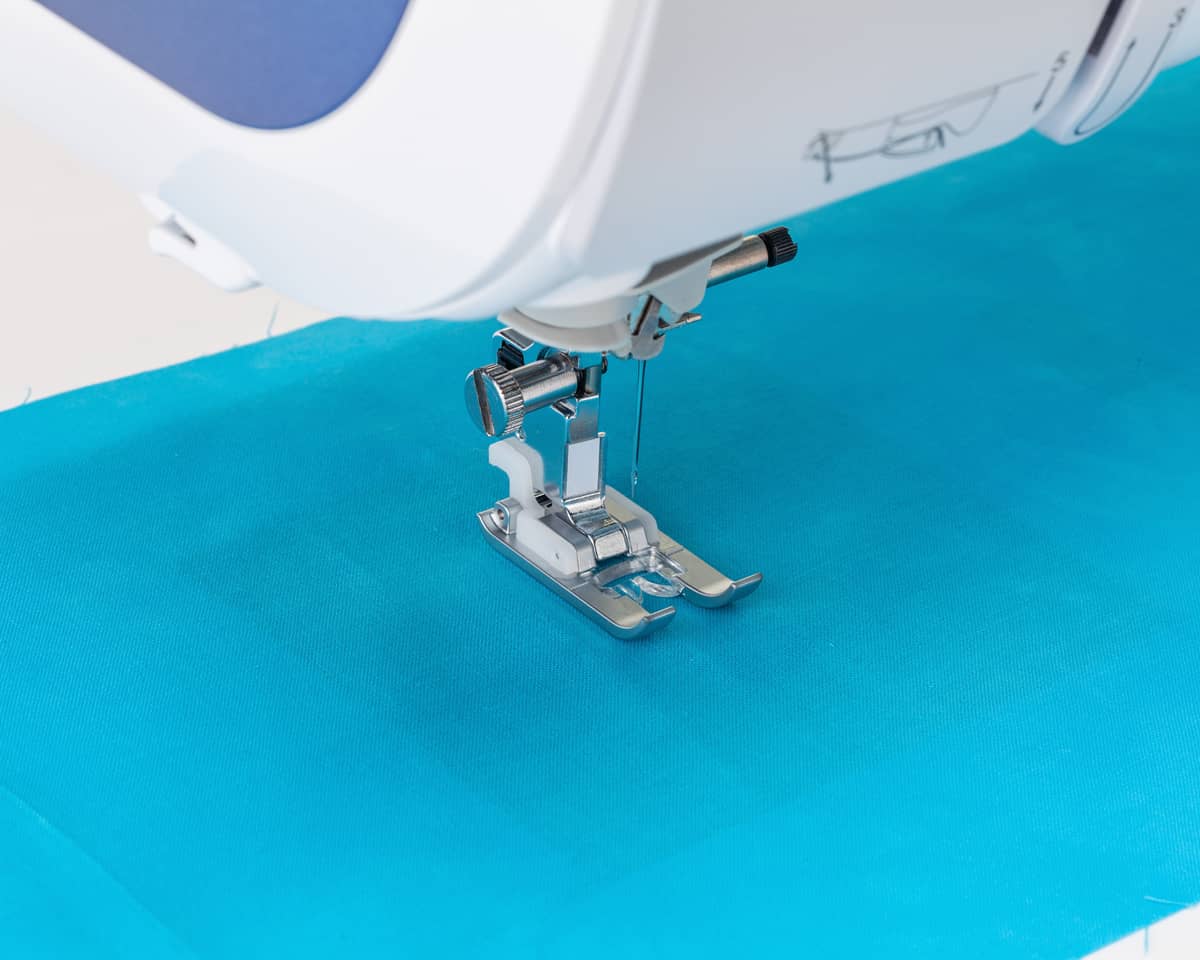 Enjoy all-new enhanced accessory feet, like the N foot, which has a durable coating meant to feed fabric smoothly. It has a plastic guide to
help minimize the possibility of the material being misaligned during stitching.
Fine Tip Stylus
Included in this upgrade kit is a brand-new fine-tip stylus that makes it easy to create beautiful and accurate drawings right on the machine. Draw or
doodle directly on the LCD display and watch it spring to life in the large drawing area. Or use the industry-first ScanImation Scanning Frame to scan
drawings, line art, handwriting, or printed clip art and have it transformed into embroidery data. Or import a JPEG using the USB port and be amazed
as the image is turned into stitch data using just the machine.
Multi-Function Foot Controller
The included Multi-Function Foot Controller has been designed to be more ergonomic to the foot and is accessible for toggle functions. The heel and
toe kick angle have been updated and the main pedal has been redesigned for easier stepping and load reduction. There is also a built-in cord storage
solution and easy-adjust slot on the back of the pedal.