Brother Stellaire Innov-ís XE1 Embroidery Machine
Temporary price reduction!
---
The Brother Stellaire XE1 lets you experience the freedom and comfort of embroidery with its large 9.5″ x 14″ embroidery area — this means no more re-hooping when combining designs. Now, you have the power to handle practically any project with ease. The Stellaire XE1 comes with an extensive library of 727 built-in embroidery designs, with over 100 Disney designs included.
The My Design Snap mobile app allows you to place and position your designs exactly where you want them, every single time. Simply take a photo of your embroidery area, preview it on the screen with your selected design, and begin embroidering! Enjoy embroidery speeds of up to 1,050 stitches per minute, LED Embroidery Poiter, the large 10.1″ high-definition LCD display, My Design Center, and more.
---
Description

Brother Stellaire Innov-ís XE1
Top of the Line Embroidery Only Machine!

Brother Stellaire Innov-is XE1 with Advanced Embroidery will take your passion to the next level! With so many advanced embroidery features including My Design Snap™ Mobile App, this machine is truly designed for the embroidery enthusiast who wants to take their embroidery to the next level – and beyond!
TURN JUST ABOUT ANYTHING INTO EMBROIDERY With The Brother Stellaire Innov-is XE1!
The My Design Snap™ Mobile App, designed for use with IOS and some Android devices, will capture a picture of line art or an illustration from your mobile device – then send it to the Brother Stellaire Innov-is XE1 to convert into embroidery data instantly! Creating a custom personal work of art has never been easier. Use the My Design Snap mobile app to turn line art, handwriting, or an illustration into embroidery data. Take children's drawings and turn them into forever keepsakes. Or, draw your own line art and snap the image using the My Design Snap app on your mobile device. Have an illustration that you love?  You can turn that favorite image into embroidery with the My Design Snap app and My Design Center! Simply snap a pic of the image using the My Design Snap app on your mobile device. The image is sent to your machine through your wireless network and then converted into embroidery data. Let your creativity flow by combining the different decorative fills in your image to create beautiful, one-of-a-kind embroidery designs to enhance your original art! Use the embroidery data to create unique works of art. It's as easy as 1-2-3!
Built into the Stellaire XE1 is Brother's Exclusive My Design Center™
With 60 closed shapes, 30 open shapes, and 5 line types, that can be used alone or combined to create unique embroidery projects, your creativity will be endless!
Brother Stellaire XE1 features include:
Large Embroidery Area of 9.5″ x 14″- No more re-hooping when combining designs on the included 9.5″ x 14″ frame! A 5″ x 7″ frame is also included.
Fast Embroidery Speeds – Embroidery speeds up to 1,050 stitches per minute!
Built-in Embroidery Designs and Fonts – 725 embroidery designs, including 101 designs, featuring Disney characters, and 24 embroidery fonts (22 Alphabet and 2 Cyrillic).
DISNEY IS IN OUR DNA
The Brother Stellaire Innov-is XE1 has the magic of 101 Disney embroidery designs built right in, featuring Mickey Mouse, Minnie Mouse, Goofy, and Pluto.  Plus – your favorite characters from Frozen, Finding Nemo and Cars! Brother customers get exclusive access to even more Disney and Disney•Pixar embroidery designs through the iBroidery.com Download Center (purchase required).
Large 10.1″ Built-in High-Definition LCD Display. View your creations in crisp, vivid color and easily navigate with the scrolling menu and large icons. Includes 17 built-in tutorial videos.
EMBROIDERY FEATURES AT YOUR FINGERTIPS
EMBROIDERY DESIGN EDITING – Easily edit your embroidery designs and fonts. Combine designs, add text to designs, duplicate, rotate, mirror and resize with stitch recalculation directly on the embroidery machine, no computer required. With the border function, begin with a small design and turn it into a border for pillowcases, towels, or curtains. With the ability to undo and redo up to 10 times while editing, you don't have to worry if you make a mistake!
ENHANCED LETTER EDITING – Take your text editing skills to the next level. The enhanced letter editing allows you to manipulate your text on screen. Arc text easily with the array tool or place it on a diagonal. Resize to a specific size, slice the text apart to edit individual letters. Letters can be moved up/down/left and right individually or as a group. The knife tool allows you to divide the letters and move them individually. The letters can be rotated and have different fonts applied to each letter if desired!
ENHANCED THREAD COLOR PALETTES – Our already generous thread color palette has been enhanced with the addition of Iris, Floriani, Simplicity, and Polyfast brands. You can even combine to use your favorite colors from multiple brands!
COLOR SHUFFLING FUNCTION WITH NEW 'FAVORITE' FEATURE – Color shuffling has never been easier or given you more control. Choose the colors you wish to include in the embroidery design and save up to 9 different variations of the design to select your favorite color combination. For even more customization, after choosing the desired color combination, use the Editing function to resize your design with stitch recalculation to fit the embroidery design in the desired location, ensuring a lovely stitch out.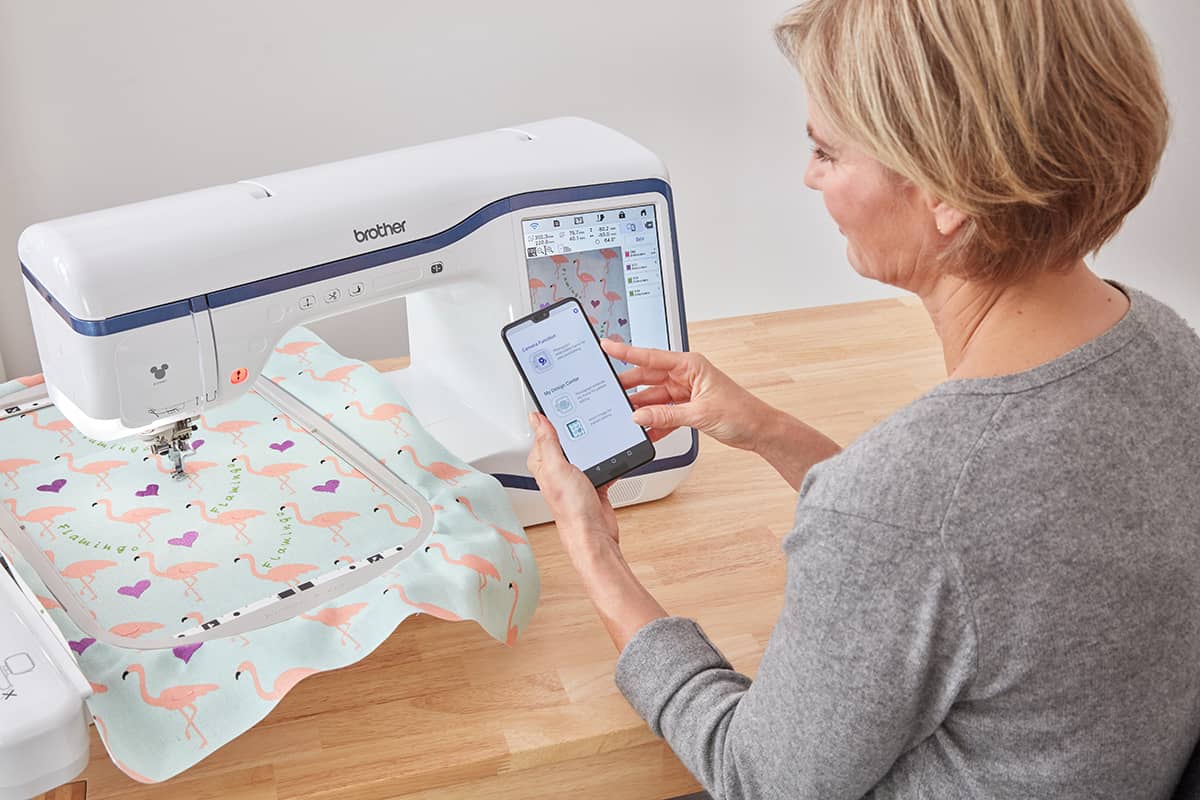 My Design Snap Mobile App for Background Scan
Take a picture of your hooped fabric with your mobile device. The captured background is transferred to the machine through your wireless network so you can easily position and colorize your design on the LCD display. For more precise position use the Snowman Embroidery Positioning Marker in the desired spot on your embroidery area. Snap a picture, preview it on screen, and you're ready to embroider!
Built-in LED Embroidery Pointer – See the center of your embroidery design as well as the needle drop location on the fabric!
More Features include:
What's included with the Brother Stellaire Innov-is XE1
Embroidery Frame Set 9.5″ x 14″ (SA449S) and 5″ x 7″ (SA439S)
Embroidery Foot with LED Pointer (SA197)
Stabilizer (SA519)
Embroidery Needle Plate Cover (XE5131-001)
Additional accessories included in the box

Add more Disney, Pixar and Marvel designs at

Ibroidery.com!
Also Available as a Sewing and Embroidery Combo Machine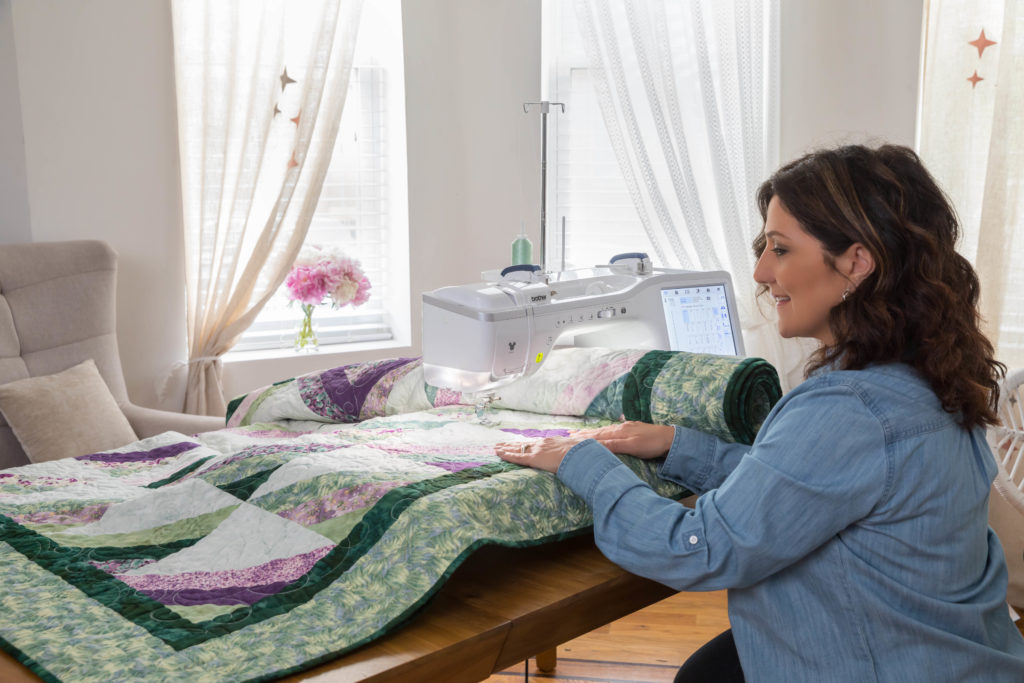 Free guide classes with purchase, at any Moore's SoCal locations. Click here for a list of upcoming classes.
Recommended Software
BES4 Embroidery lettering and editing software with 840+ built-in designs.
PE-Design 11 Embroidery Software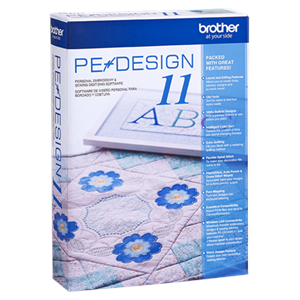 Recommended Companion product:
Additional information
| | |
| --- | --- |
| Weight | 65.5 lbs |
| Dimensions | 33 × 24 × 25 in |
| Brand | Brother Industries |
| Manufacturer | Brother Sewing Machines |
| | |
| --- | --- |
| Manufacturer | Baby Lock |
| Brand | Baby Lock |
0% Interest for Up to 60 Months
On purchases of $300 or more made with your Sewing & More credit card. Terms of 6 to 60 months available.
Apply for your Sewing & More Credit Card now!