Baby Lock Solaris 2 Sewing and Embroidery Machine
Special Pricing Available Now
---
The Baby Lock Solaris 2 features state-of-the-art technology such as the built-in IQ Visionary™ projector that displays stitches and embroidery designs directly onto the fabric, wireless stylus to resize, move, and make adjustments in real-time before stitching, perfect placement is easier than ever. The Solaris 2 is enhanced with End Point Setting for sewing, IQ Intuition™ Monitoring App, IQ™ Designer, and largest embroidery hoops of 10-5/8″ x 16″ and 10-5/8″ x 10-5/8″. Read all about this stunning piece of technology below!
Click here to download the Baby Lock Solaris 2 brochure.
---
Want to be notified when this product is back in stock?
Description
Baby lock Solaris 2
Baby lock Solaris 2 is know for its ease of use and advanced technology. Discover IQ technology, one of the most advanced sewing and embrodiery features of the Baby lock Solaris 2.

---
Features
Perfect Embroidery Placement
While in embroidery mode, choose from three different projection backgrounds (black, grey, or white) based on the fabric choices to see your design clearly. The needle drop laser is displayed in a point or a "T" pattern for even more precise placement.
Perfect Sewing Placement with the Baby Lock Solaris 2
The Baby lock Solaris 2 uses a variety of guideline markers and grids for perfect placement. While in sewing mode, switch between three different laser colors (red, green, and white) for better visibility based on fabric choices. Single, double, angles, and grid lines are ideal for piecing precision, stitch adjustment, and aligning starting points and very wide stitches.
10-5/8″ x 16″ and 10-5/8″ x 10-5/8″ Hoop Sizes
With the 10-5/8″ x 16″ hoop the Baby Lock Solaris 2 has the largest single embroidery area in the industry. It makes it possible to stitch out your biggest embroidery designs with fewer re-hoopings. The 10-5/8" x 10-5/8" hoop size is perfect for quilt blocks.
IQ Intuition™ Monitoring App
Keep track of your project's progress with this convenient feature that alerts your phone anytime stitching is stopped and when stitching is done (free smartphone app for download is required).
Baby Lock Solaris 2 IQ™ Designer and IQ Intuition™ Positioning App
Create your own designs and quilt motifs with ease. Draw directly on the screen, scan in your favorite artwork, upload an existing file to the Solaris 2 using a USB drive, or wirelessly send designs to your machine from your smartphone using the IQ Intuition Positioning App. Your art will be instantly converted into an embroidery pattern (free smartphone app for download is required).
Auto Split of Large Quilt Borders
Create beautiful quilt borders and sashing with unmatched precision using the 30 patterns and two shapes (rectangular or hexagonal) available. Simply enter a few measurements, select a hoop, and the Solaris 2 does the necessary calculations for you. The on-screen instructions guide you every step of the way for quilts measuring up to 118" x 118". You can even repeat or skip sections, if necessary.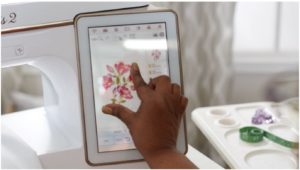 10.1″ Capacitive Touchscreen
You'll have total control over every single aspect of your stitches, embroidery designs, placement, colors and more on a large touchscreen with slide scrolling menus and pinch in/out zooming.
End Point Setting for Sewing
Achieve perfect stitches using the built-in camera and endpoint sewing stickers. Simply place the sticker where you want your stitch to the end, activate the endpoint sewing feature, and sew with confidence!
Add Quilting to Embroidery Patterns
Add stippling, echo quilting, or any of the 42 Decorative Fill patterns from IQTM Designer around a selected design. For advanced quilting options, use IQTM Designer to add fills inside your designs.
Camera Detecting Buttonhole Foot
The Solaris 2's camera automatically senses pre-set points on the buttonhole foot, providing an accurate, better sew out. The two-piece foot secures the fabric, preventing slippage.
13″ to the Right of the Needle
With an unprecedented 13″ to the right of the needle for an impressive 65 square inches of workspace, Solaris 2 gives you plenty of room to comfortably work on larger projects and full-size quilts.
Needle Plate with Push Button Release
Switching out plates has never been this easy – just simply touch a button. No tools are needed! The needle plate also features a variety of new markings for better placement, alignment, and accuracy.
Built-In Designs, Built-In Fonts, Decorative Fills, Utility Stitches
Make every project uniquely yours with a huge variety of built-in designs, decorative stitches, decorative fills, and utility stitches. The Solaris 2 is pre-loaded with 865 built-in embroidery designs, 864 decorative stitches, 42 decorative fills, and 154 utility stitches. The combinations are endless!
Embroidery Couching
Use the included couching embroidery foot to easily add dimension and texture to your projects with decorative years on and of the 40 new designs.
---
Included Accessories
Baby Lock Solaris 2 comes with all the items you need to start sewing and embroidering. In the accessories box are 17 presser feet, dual stylus and holder, straight stitch needle plate, bobbin case and cover for embroidery, alternate bobbin case for use with pre-wound bobbins, bobbins, multi-position screwdriver, seam ripper, scissors, and many more tools. Included also are 4 embroidery hoops: from largest of 10-5/8″ x 16″ to smallest of 4″ x 4″.
---
Magnetic Sash Frame (BLSA-MH)
Easily and firmly secure and reposition fabric in the frame for embroidery in a 7″ x 14″ hoop. This frame uses 8 strong magnets capable of hooping thick fabrics.
Magnifying Lens (BLMA-ML)
Easily attach the magnifying lens to improve visibility in the needle area.
Solaris Extension Table (BLSA-ET)
Instantly create a larger sewing surface with this extension table. The table's convenient design stores your knee lift underneath.
Palette™ 11 (ESC11)
This revolutionary design software works perfectly with the Solaris 2 to wirelessly transmit designs from your computer and introduces new techniques, options, and styles. You'll enjoy improved functionality that makes every step of digitizing easier.
Multifunction Foot Control (BLMA-MFC)
Make sewing even easier with the Baby Lock Multi-Function Foot Control. Start and stop your sewing with the main foot control, and perform two convenient functions with the heel tap feature and side pedal. You can program the functions for this hands-free accessory through your machine.
Solaris Foot Kit (BLSAFTKIT)
Expand your creative possibilities with this 30-Piece Foot and Accessory Kit. It features a wide variety of feet for
more techniques.
Machine Trolly (BLMTXL-BL)
Store and transport your Solaris 2 and the associated hoops — including the 10-5/8 x 16″ hoop!