Janome Continental M17 Sewing and Embroidery Machine
High-Definition Sewing, Embroidery and Quilting!
The Janome Continental M17 raises the bar of performance and achieves a new level in Sewing, Quilting and Embroidery! This new level can only be described as High Definition. Standing head and shoulders above all other top-of-the-line machines, the Continental M17 offers the largest embroidery area (11" x 18"), fastest embroidery speed (1200spm), largest sewing area (13.7" to the right of the needle), fastest sewing speed (1300spm), world's only stitch regulation system that includes ruler work, and much more. This new combination sewing and embroidery machine will take your entire creative experience to a whole new level.
Click here to view accessories included with the Janome Continental M17.
---
Janome Continental M17 Bundle
(Click image for larger view)
50 Spools of Embroidery Thread
6 Rolls of Stabilizer
5 Cutting Templates
6 Ruler-Work Ruler Sets
Needle Set
Exclusive Sashiko kit by Kimberly Einmo
---
Sold locally in-stores only. For more information please visit one of our five Southern California locations, or call us at 1-800-865-9664
---
Description
Janome Continental M17 High-Definition Embroidery
Janome Continental M17 has the largest embroidery area on the market! The largest hoop has a gigantic 11" x 18.1" embroidery area, giving you room for larger projects without needing to re-hoop or turn the hoop.
Janome's expertise in robotics is clearly shown in the making of the industry's most advanced embroidery unit. This Gantry-crane-style embroidery carriage is structured to give greater precision and durability.
For the first time ever, a full aluminum casting gives support from the front, back, and above. It has 3 linear guides and 23 bearings, including 12 ball bearings and 11 sets of needle bearings. The motors are also brushless DC motors, which have 350% longer life than traditional motors that are used in embroidery units. By building an embroidery unit that has quality second to none, it is the fastest embroidery machine in the industry, reaching speeds up to 1200 spm.
The largest embroidery hoop is reinforced with carbon fiber. Using this material provides 10 times the strength of iron and yet weighs 75% less.
The Janome Continental M17 comes with 5 embroidery hoops that are spring loaded and have a special hoop-tightening lever on both ends. This results in a more secure hold of your fabric. Also, it is much easier to hoop and remove your fabric regardless of the thickness.
The hoops slide effortlessly into the M17's hoop lock, where the machine recognizes the size of the hoop. The M17 will warn you if it's not the correct size for the design.
The Janome Continental M17 has 1230 built-in embroidery designs. This includes many from exclusive designers. The designs are easily accessed from the color touch screen. You can edit, combine, adjust color, and add text easily from the embroidery edit mode on the machine.
Embroidery Position Marker
A JANOME FIRST!
The embroidery positioning light is activated by touching an icon from the screen, shining a precise red light at the needle position. This gives you more accuracy for the alignment of multiple designs and embroidery placement.

The most advanced stitch regulation system (A.S.R) ever developed is now included on the Janome Continental M17!
Utilizing an optical sensor and positioning it higher, this stitch regulator provides more accuracy and covers a much larger area than any other machines on the market. It detects more intense motions, colors, and a wider range of fabrics than other machine regulators.
It's the only regulation system on any household machine that can work with a ruler-work accessory!
There are 4 A.S.R. feet included with the Continental M17. The open toe, closed toe, clear view echo and exclusive ruler-work feet all work with the stitch regulator.
High-Definition Sewing starts with a foundation of quality. Janome has the only one-piece seamless aluminum casting in the industry. This is an exoskeleton-type design that ensures longer life and smoother operation.
The Janome Continental M17 is the fastest top-loading machine on the market, reaching speeds up to 1300spm. Main shaft ball bearings ensure smooth and quiet operation even at the high speeds this machine is capable of achieving.
The industrial style, 12-core, brushless DC motor provides higher torque and lasts 350% longer than traditional motors.
You have room for your largest projects. This machine boasts 13.7″ of space to the right of the needle, 5.51" above the bed, and 3.51" above the needle. This is the largest in the industry and gives you more room for quilting and sewing bulky projects.
Exclusive Dual Screen Display
The Janome Continental M17 incorporates a unique dual screen design.
The middle touch screen displays stitch settings and gives quick and direct key access.  This eliminates the need to go into a settings mode located on the main screen.
To increase the connectivity between you and the machine, an exclusive new thumb wheel is located at the inner portion of the throat area. This gives the sewer the ability to easily lower the needle to the fabric for placement instead of reaching to the right for the handwheel.
The Janome Continental M17 has a large 10.1" capacitive touch panel display. This resistive, film-type screen shows full color, with over 16 million colors displayed on the large tablet style screen. It supports multi-point touch, pinch, and other operations similar to smart phones and tablets.
The ease of operation is enhanced by the GUI (Graphics User Interface) of the opening screen that launches you quickly into the category you desire.
The sewing mode accesses the M17's impressive library of 850 – 9mm stitches.
This includes many hand-type quilt stitches that are exclusive to Janome.
You have the control to manipulate the stitches in virtually infinite ways. Combine, re-size, and taper many of the stitches to make beautiful motifs.
Janome Continental M17 provides superior fabric control with AcuFeed™
AcuFeed™ Flex Plus is an integrated system that perfectly feeds fabric from the top and bottom. This is great for quilts, plaids, and any sewing that requires precise control. Now improved with an independent motor that controls the AcuFeed™ Flex Plus system, this gives you even better fabric control!
The AcuFeed™ Flex Plus system can sew even fake fur with ease. This is an exclusive feature found only on the Janome Continental series, including the Continental M7.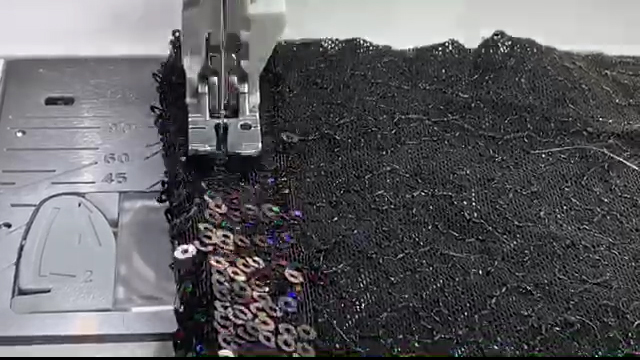 Included with the Continental M17 are several AcuFeed™ accessories. The H2 foot, in combination with the HP plate, gives you even more precision to combat the most extreme fabric.
Stress Free One-Touch Needle Plate Conversion
No screws or tools are necessary to change the needle plate. Simply push the on-screen icon to release the plate and place a new one in its place. The Janome Continental M17 will automatically retract the new plate into place using a patented magnetic system. Plus, the M17 comes with three standard needle plates: zigzag, straight stitch, and the Professional Grade HP plate.
New Float Mode for Sewing
The floating mode provides more control when using fine and difficult fabrics. By adjusting the float height of the presser foot, you reduce friction from the foot and the fabric flows better, reducing marks and wrinkles.
Built-in Sewing and Quilting Applications
The sewing and quilting application pages provide a simple and accurate solution to some of the more difficult procedures and techniques found in today's sewing. By funneling your settings down to a simple one- or two-step selection, you now can achieve professional results every time, eliminating guesswork.
Best Lighting in the Industry!
The Continental M17 has the largest, most well-lit sewing area in the industry. With 9 brilliant LED lights placed in 4 different locations, you will have less eye fatigue and you will see your projects in their true color.
Easy access to the thread and take-up path makes it much easier to remove thread that can get caught inside the mechanism.
With a simple push of the button, the top cover opens. Two large spool pins rise vertically from the top of the machine, and the built-in thread guide telescopes for optimum thread delivery.
Magnetic accessory holders are located in the lid of the Janome Continental M17.
With a simple press of the button, the hands-free automatic needle threader effortlessly threads your needle.
Another Janome exclusive is easy accesses to the needle bar area for clearing and cleaning thread tangles–just like the
old machines were made!
The Janome Continental M17 owner has free access to several apps compatible with many IOS and Android devices including smartphone and tablets. These mobile applications are "bi-directional," where interaction between the machine and mobile device are two-way. This enhances your experience and gives a simpler, more expansive experience to the features of the Continental M17.
AcuAssist is more than an instructional manual. Access information on each stitch or accessory, and even launch directly to Janome's YouTube channel. After viewing the desired stitch, launch it to the machine and everything is set to sew. In embroidery mode, you can browse your design library, see the stitch count, colors needed and voila, it's all ready to sew at your machine.
Embroidery Link gives access to all your designs on the machine, on inserted USB drives and even those on your mobile device. With this app you can copy, merge, resize, adjust density, apply lettering, and even edit and delete individual sections of a design. The E-link will also monitor the status of your design as you stitch it out.
AcuSetter provides perfect embroidery placement. Simply take a picture of your project in the embroidery hoop to position and adjust the design right where you want it. Send it to the machine and it's placed exactly where you want it. It's as simple as that.
With AcuSketch you now can turn all your amazing doodles and sketches into embroidery. We all do it — once a pen is in our hand, we trace, draw, and create. This is what AcuSketch does for you. Bring in a photo, take a picture and trace it. You have many different stitch options including run, bean, zig zag and much more.
Accessories Galore!
Over 92 items included ranging from feet, hoops, needle plates and more!
Sewing Feet
Zigzag foot A
Overcasting foot M
Satin stitch foot F
Blind hemming foot G
Zipper foot E
CONCEAL® Zipper foot Z
Automatic buttonhole foot R
Stabilizer plate
Rolled hem foot D
Satin stitch open-toe foot F2
Button sewing foot T
1/4˝ Seam foot O
1/4˝ Seam foot O (without guide)
Professional grade foot HP
Darning foot PD-H
Darning foot (open-toe) PD-H
AcuFeed holder (twin)
AcuFeed foot AD (twin)
AcuFeed quilt piecing foot OD (twin)
AcuFeed open toe foot UD (twin)
AcuFeed ditch quilting foot SD (twin)
AcuFeed professional grade foot HP2
AcuFeed holder (single)
AcuFeed foot VD (single)
AcuFeed zipper foot ED (single)
Free motion quilting closed-toe foot QC
Free motion quilting open-toe foot QO
Free motion quilting zigzag foot QV
Variable zigzag open-toe foot QZ
Ruler work foot QR
Embroidery foot P
Embroidery Couching foot PC-1
Embroidery Couching foot PC-2
Yarn guide
AcuStitch Regulator Unit
ASR closed-toe foot ASR-QC
ASR clear-view foot ASR-QV
ASR open-toe foot ASR-QO
ASR ruler work foot ASR-QR
Sewing Accessories
Needle plate (on the machine)
Straight stitch needle plate
Professional grade needle plate HP
Touch panel stylus
Cloth guide
Quilting guide bar
Button shank plate
Optic magnifiers (3) x20, x40, x60
Knee lifter
Foot control (Extra Large)
Remote thread cutter
USB cable
Accessory case (Black)
Cover (Semi-hard)
Bobbins (5), Needle set, Lint brush, Scissors,
Seam ripper, Screwdriver, Spool nets (2),
Spool holders: large (2), small (2), special (2),
Spool rests (2), Bobbin holder cleaner
Embroidery Accessories
Embroidery hoops:
RE46d 11 x 18.1" (280 x 460 mm)
SQ28d 11x 11" (280 x 280 mm)
RE20d 5.5 x 7.9" (140 x 200 mm)
SQ10d 3.9 x 3.9" (100 x 100 mm)

Bonus:

ASQ27d (270 x 270 mm)
Magnetic clamps (8) for RE46d and SQ28d

Bonus:

Magnetic clamps (8) for ASQ27d
Special bobbin holder for embroidery
Sub thread guide stick
Positioning marker embroidery foot
Embroidery Starter Kit
Felt (320 x 320 mm and 500 x 620 mm)
Stabilizers (320 x 320 mm and 500 x 620 mm)
Bobbin thread for embroidery
Instructionals
Instructional video (Web download)
Sewing Manual (Web download)
Embroidery Manual (Web download)
Quick start guide
Threading guide
Software Applications
PC applications (Web download):
StitchComposer, ScreenSaverTool,
QuiltBlockAdviser

Bonus:

Artistic Digitizer Jr
---
Janome celebrated 100 years of manufacturing in 2021. Vist their commemorative site to view the history of this amazing manufacturer of quality sewing machines.