Grace Q'nique 19X Elite Quilting Machine
The Grace Q'nique 19X Elite Longarm Quilting Machine provides a superior quilting experience in a friendly, familiar size you'll love. The Q'nique 19X Elite quilting machine gives you an extended reach, impressive technology, and useful features, all in an approachable size that feels like your home sewing machine.
---
Description
The Grace Q'nique 19X Elite longarm Quilting machine is now available. Enjoy the reach and features of a professional longarm and the comfort and control of a home quilting machine.
Domestic Feel
Light feel, easy to move
User-friendly controls
Slim and approachable
Fine stitching control
Professional Features
Built-in stitch regulation
Full-color touchscreen
Adjustable handles
Large 19″ throat-space
Controllable LED light
to 2000 Stitches per minute
The Most Comfortable Quilting Experience
Designed to Feel Familiar
Making the leap to a longarm machine can be intimidating, but the Q'nique 19X Elite makes it easy! This machine is lightweight and easily maneuverable compared to other longarms.
Extended Quilting Area
19 inches of throat space lets you quilt much bigger, more intricate quilt blocks and finish quilts faster.
Bigger, Better Touchscreen Display
7″ full-color display of the Grace Q'nique 19X Elite provides a variety of highly accessible tools and options at your fingertips, including on-screen help guides and instructions.
Elite Technology
Discover innovative smart technology in the Grace Q'nique 19X Elite like a patented edge warning system to keep you inside your quilting area, or a bobbin estimator feature that tells you how much longer your bobbin will last.
Perfect for Detailed Stitchwork
With a speed of up to 2,600 stitches-per-minute and built-in stitch regulation, you can quilt at any speed knowing that the Grace Q'nique 19X Elite's stitches will be beautifully consistent.
Key Features
Adjustable Handles
The handles of the Q'nique 19X Elite can be adjusted to the most comfortable position for you, so you can quilt for longer without any aches and pains.
Comfort Grip Design
The soft, ergonomic handles are designed to follow the contours and curves of your hand, relieving stress in your hands and wrists so you can quilt comfortably.
4 Quick-Access Buttons
There are two buttons on each handle with user-friendly labels: start/stop the machine, adjust needle position up/down, and speed up/slow down the machine.
Adjustable Hopping Foot
The hopping foot can be rotated to give you the best view of your stitching.
Bobbin Winder
Built-in bobbin winder with fill-level sensors and easy-to-use controls
Thread Mast
Dual thread mast for quilting and winding bobbins at the same time
Needle Dimmer
Needle work light with dimmer function to control light intensity
---
Customize Your Q'nique Quilting System: Frames and Robotics Options
Complete your quilting system and save hundreds when you purchase a qualifying frame with your Grace Q'nique 19X Elite midarm quilting machine. Qualifying frames include the following:
Frames:
Select the Frame that best fits your needs:
Cutie Tabletop Frame
Quilt or sew anywhere with this easy-to-use, affordable fabric frame and your home sewing machine! The Cutie Tabletop Fabric Frame allows you to quilt, sew, and stitch to your heart's content in a much easier way, managing your fabric for you so you can enjoy the process more. This frame fits on top of a table or desk and is compatible with most sewing machines.
The Cutie is a great space saver, designed to be lighweight, portable and to fit on top of a table or desk, and is easily stored away. The Cutie is priced at a fraction of the cost of other frames on the market, and is the best adaptable choice for your quilting projects. With the Cutie, you will be able to create projects of any size with the Grace zone-to-zone method. If you can imagine it, the Cutie can help you make it happen!
Q-Zone Hoop-Frame Quilting Frame or Q-Zone Hoop-Frame Pro
The Q-Zone Hoop-Frame is an entirely new type of machine-quilting frame that easily manages fabric like a simple hoop. It incorporates a small space-saving form factor that allows it to be set up in any room, and still quilt even the largest projects!
Work sitting or standing
Make quilts of any size
Space-saving size (Width 54″ x Height 32″-42″ x Depth 37″-42″)
Height-adjustable
Budget-friendly
Q-Zone Hoop-Frame Pro adds the capability and control of hte best frames on the market. This frame comes with a dual track system for increased stability and built-in tabletops for full functionality. Includes Table Inserts, Cloth Leaders, and Dual-Track System.
Q-Zone Queen Quilting Frame
The new Q-Zone Queen Frame includes features normally found on more expensive frames. With its height-adjustable legs, you can quilt either sitting down or standing up. Also included are two rails for quick and easy fabric attachment, and a dual track carriage so your machine will glide smoothly across the frame.
Grace Continuum II 10-foot Frame
With steel and cast-alloy, the Continuum II frame is one of the sturdiest and longest–lasting frames ever designed. This modular frame has many available configurations and accessories. This is a no–baste frame designed to make your quilting projects easier, more convenient, and more beautiful.
---
Robotics:
QuiltMotion Quilters Creative Touch software adds the ability for precision quilting, letting you design and lay out your quilt projects on any Windows 7, 8, or 10 tablet or PC.
Achieve Precision Accuracy: QCT5 Pro has powerful new tools like a built-in digital ruler for precise measurements as well as the ability to center your machine to exactly where it needs to be.
Plan Your Entire Quilt: Do more in less time with new placement methods. Now you can auto-populate patterns you want to duplicate and lay it out exactly how you want it.
Get Help When Needed: QCT5 Pro now includes in-session tutorials on almost all aspects of the software, which are available to open and close at any time during use.
Easier Edge-to-Edge Patterns: Now you can auto-populate patterns you want to duplicate instead of placing patterns one-at-a-time. Even better, the software will center your pattern based on your quilt size so you can save time and get to quilting faster!
Choose from Creative Touch 5 Beginnings, Pro, or Pro with Gold Card Access. It is also possible to upgrade from Beginnings to Pro.
---
Creative Touch 5 Beginnings
Quilter's Creative Touch 5 Beginnings allows you to access computerized quilting even more affordable. This Budget-friendly automation system offers all the essential feature of computerized quilting, and lets you create your masterpieces in steps as simple as select, place, and sew.
This system is the perfect introduction to automated quilting. Select patterns from the included library, and easily place them on your quilt for sewing. If you ever decide to take the next step and start designing your own patterns, an upgrade option to the fully featured QCT5 standard tier is available.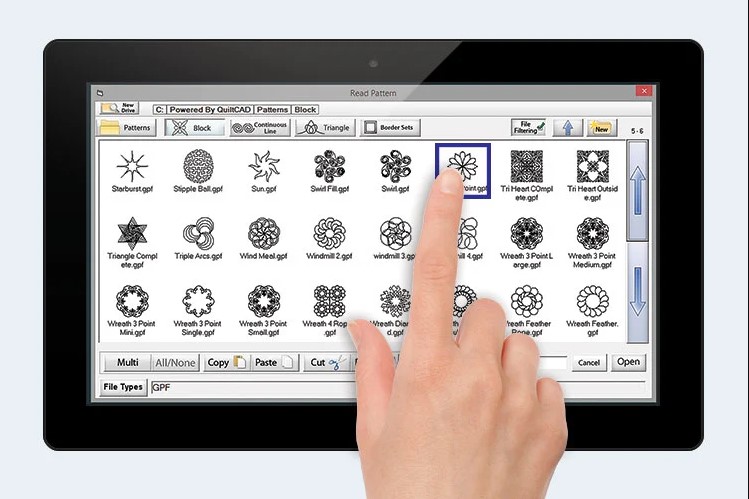 Pick a Pattern from the expansive pattern library.
Select a block, continuous line, corner, or more from the library of over 200 included patterns.
Edit and Place with precise placement methods.
Quilter's Creative touch 5 lets you place your patterns on your quilt the exact way you want. See your pattern in relation to quilt on–screen as set the placement.
Let Your Machine Do the Sewing bringing automated quilting in your own home
The QuiltMotion motor plate and hardware come bundled with Quilter's Creative touch 5. QuiltMotion controls your sewing machine to accurately stitch your quilt designs.
---
QuiltMotion Creative Touch 5 Pro
Quilter's Creative Touch 5 Pro is the top-of-the-line automated quilting system with the ability to create stunning designs through flawless execution. Customers will love how easy and user-friendly this software is compared to similar products on the market.
This is a complete "flow-through" system for your entire quilting process. Everything including pattern creation, design, editing, pattern-placement, and of course quilting, is all contained in the same software without the need to switch programs.
Powerful and User-Friendly Features Include:
Simplified Pantograph Layout
Creating and editing pantographs is even easier with Panto Stacker! Alternate rows, sizing, and number of patterns can all be edited in a few simple clicks.
Design Your Own Quilt Patterns
The included Pattern CAD gives you the power to bring any idea to life and be stitched with Quilter's Creative touch 5.
Trace Your Favorite Photographs
Create quilting patterns from your favorite photographs! Quilter's Creative Touch 5 lets you import photos and trace your quilt patterns over them!
Record Free–Motion Quilting
With Quilter's Creative touch 5, you can record and save any free–motion quilted patterns to use or edit later.
---
QuiltMotion Creative Touch 5 Pro with 1-Year Gold Card Access
Quilter's Creative Touch 5 Pro with 1-Year Gold Card Access unlocks absolutely everything that Creative Touch 5 has to offer, going beyond letting you design, place and create your patterns. Now you can go from borders, to corners, to multiple patterns at a time, to font stitching, and even more. You'll love seeing your favorite patterns professionally quilted by your own quilting machine.
Gold Card Features Include:
Borders and Corners
Borders and Corners makes border design and placement easy. You simply capture your border points on the fabric and select your patterns. Borders and Corners does the rest.
Corner Maker
Corner Maker enables you to take any continuous line pattern and transform it into a perfectly formed corner pattern that fits seamlessly with continuous borders.
Font Stitcher
Including a special message in a quilt is now a simple matter with the font stitcher! You select the font, type in the letters you want, and save it as a pattern to be quilted.
Exclusive Gold Patterns
With Gold Access, you have access to a monthly list of premium patterns that you won't find anywhere else. Give your quilting another reason to be a step above.
Fabric Compensation
If there's one "special" aspect with quilting, it's that "There is no such thing as a straight line". Fabric Compensation solves this problem, by allowing you to "morph" placed patterns, borders, and pantographs, to fit within the lines of your fabric.
Panto Advanced
The next level of PantoStacker allows you the added ability to select different patterns for each row, and the ability to move them within the design area. You can even have different pattern counts on each row, too!
Pattern eClipse
Worrying about applique damage is now behind you! with eClipse, you can plan around all those special pieces that make your quilt priceless.
Multi-Pattern Placement
Want to save time by placing several patterns at once? Well now you can!
Template Designer
With Gold Access, you have access to a monthly list of premium patterns that you won't find anywhere else. Give your quilting another reason to be a step above.
Virtual Longarm
Have you ever wanted to sew a pattern that was too large for the Safe Area? Virtual Longarm automatically separates a pattern that goes beyond the Safe Area.
---
Guide Classes
Additional information
| | |
| --- | --- |
| Dimensions | 32.8 × 15.6 × 26.8 in |
0% Interest for Up to 60 Months
On purchases of $300 or more made with your Sewing & More credit card. Terms of 6 to 60 months available.
Apply for your Sewing & More Credit Card now!